---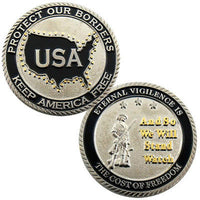 Protect Our Borders Keep America Free Challenge Coin
1.5" round challenge coin
Polished nickel finish 
Raised and painted detail both sides
Rope cut edging, no epoxy. 
Limited Edition
This 1.5" round challenge coin was produced for those who protect America's Borders. 
Front side Map representation of the USA.  Protect our Borders, Keep America Free
Reverse side says Eternal vigilence is the cost of freedom. 
In golden lettering And So WE Will Stand Watch.